In Italy, female editor signals women's rise
Women journalists are setting a precedent for Italian women in the workplace. But low female employment remains a problem.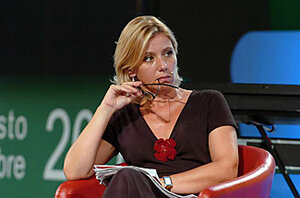 courtesy of l'unitÀ
When Concita de Gregorio became the editor in chief of L'Unità, a national newspaper, she said she wanted to focus on politics and daily news: "We have had enough commentary, now we need facts," she wrote in her first editorial on Aug. 26.
Ms. Gregorio's appointment and business-like attitude came as a surprise to many Italians, who are not used to seeing a woman in such a powerful position. Founded in 1924 by communist philosopher Antonio Gramsci and now associated with the Democratic Party, L'Unità is one of Italy's most prestigious newspapers.
Sexist critics challenged her appointment as likely to undermine the publication's reputation. "I bet now we'll see many easy recipes for working mothers and advice [in the paper] on how to behave like prostitutes when [their] husbands come home," wrote Paolo Guzzanti, a conservative columnist and lawmaker, in the right-leaning paper Il Giornale.
Italy ranks second-lowest among Western European countries, followed by Portugal, in women's rights and social status issues, according to the human rights organization Save the Children's 'mother' index, which evaluates the worldwide condition of women and children based on income, political participation, and health. In this context, Gregorio's new position is seen to signal a cultural shift.
"I was quite surprised. [Gregorio's hire] is really a sign that times are changing and Italy is getting closer to American and Western European standards," says Anna Mazzone, the editor of Formiche, a news monthly magazine.
---