Cypriots unearth a little reconciliation
Greek and Turkish Cypriots exhume mass graves to help move beyond a bitter past.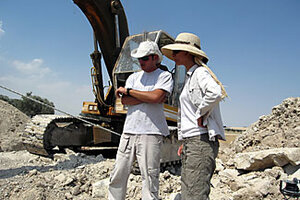 Yigal Schleifer
Turkish Cypriot Mehmet Arkut was only 4 months old when his father disappeared on his way home from work on May 11, 1964.
For decades, Mr. Arkut dreamed of again seeing his father, one of some 2,000 people who went missing during the violence between Greeks and Turks that gripped Cyprus during the 1960s and '70s and which ultimately led to the island's partition.
Last summer, Arkut's wish came true – in a way. His father's remains were found, along with those of five other Turkish Cypriots who had been shot and dumped in a well. The first glimpse Arkut had of the father he never really knew was of a skeleton with a bullet hole in its skull laid out on a surgical table.
"My mother waited for him for 44 years, hoping that one day he might come home," says Arkut, a budget planner in the Turkish Cypriot Ministry of Agriculture.
The Arkut family's bittersweet reunion was the result of the work of the Committee on Missing Persons in Cyprus (CMP), a United Nations-sponsored group created in 1981 and tasked with finding the remains of the Mediterranean island's missing.
The committee is one of the few official joint Greek-Turkish groups working on the island, and its mission – exhuming the past and trying to help the victims' families come to terms with it – speaks of both the divided island's painful history and the possibility of reconciliation, especially in light of the recent resumption of reunification talks between the two sides.
"It's the most successful bi-communal project in Cyprus. Its work is deconstructing a lot of the myths and easing a lot of pain," says Mete Hatay, a Cyprus-based researcher with the International Peace Research Institute of Oslo. "People can mourn now."
---