Global downturn hammers Ukraine's economy
Ukrainians are hurting as gas prices soar, unemployment rises, and currency value plummets.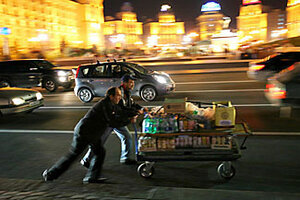 Ivan Kurinnoy/Altemus
The yard of the Vetropack factory in this small provincial town is piled high with unsold production.
None of the plant's 750 workers has been laid off yet, mainly because management is reluctant to take the costly decision to shut down any of the three glass furnaces that churn out tens of thousands of bottles each day. But space on the factory grounds is running out – and Ukraine's economic crisis just looks to be getting worse.
"Some of our best customers are unable to pay, and demand is dropping off sharply," says Alexander Petrov, information manager of the Swiss-owned company, one of Ukraine's biggest glass producers. "We've been hit by a double whammy, because of rising gas prices and the sharp devaluation of the Ukrainian hryvna."
The fact that even Vetropack – an ultramodern facility with a much-needed product – is facing serious challenges speaks volumes about the perilous state of Ukraine's economy.
The global downturn is hammering the export-oriented Soviet-era steel and chemical industries that account for 30 percent of Ukraine's gross domestic product. Its financial system is in chaos and, some experts warn, facing imminent default. The bank accounts of millions of Ukrainians have been frozen, unemployment is spiraling, the hryvna has lost half its value since last summer, and the price the country has to pay for its main energy source, Russian gas, has just doubled.
Perhaps worst of all, the political system is paralyzed, with the populist Prime Minister Yulia Tymoshenko locked in a bureaucratic war with liberal President Viktor Yushchenko.
---