Protests in Georgia's capital spark new tension with Russia
Along the border with South Ossetia, villagers say Russian tanks have recently arrived – their barrels aimed squarely at Georgia.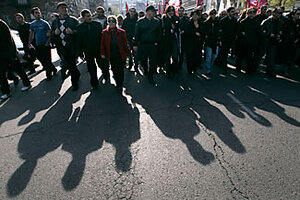 Sergei Grits/AP
Thousands of people continue to rally for President Mikhail Saakashvili's resignation in Tbilisi. But for those living in villages along the South Ossetian border, the protests have only brought anxiety as they try to reestablish their lives in the conflict zone.
"We're just simple farmers here," says Ilia Kasradze, part of a group of a dozen people who gathered to distribute a recent delivery of firewood in Ergneti, a Georgian village only a mile from the South Ossetian capital of Tskhinvali. "The protests will spoil things and have a bad effect on us."
During Russia's war with Georgia in August, 125 of Ergneti's 178 homes were totally destroyed. Dependent on handouts from aid agencies, 45 families have returned, although there is neither electricity nor livestock. Gunshots regularly heard in South Ossetia keep most people from spending the night.
"Things have gotten more tense since April 9th," says police Lt. Zurab Chuhuladze, from the nearby border post, just meters away from the Ossetian line. "Russians have been moving into the abandoned Georgian posts."
Are Russian forces preparing to invade?
On Tuesday night a powerful blast was heard from the Tskhinvali area, with the shock waves felt as far away as the Georgian border post. The cause of the explosion remains unexplained.
---