Seeing Red: Georgia blames Russia for 'mutiny'
Russia, furious over NATO war games set to begin Wednesday in Georgia, says recent turmoil is evidence of Saakashvili's instability. Armenia withdraws from war games.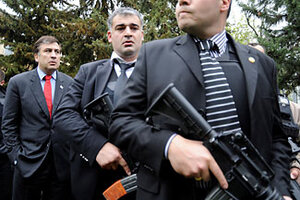 Irakli Gedenidze, Presidential Press Service, Pool/AP
It looked like a recipe for political crisis even before a Georgian tank battalion apparently mutinied on Tuesday:
• Nearly a month of rolling street demonstrations have virtually shut down the central area of the capital, with thousands of protesters daily demanding the resignation of Georgia's president, Mikheil Saakashvili.
• Russian troops have been massing in the past week barely an hour's drive away in South Ossetia.
• NATO-sponsored war games that Moscow furiously opposes are set to begin on Wednesday.
Then came the apparent mutiny Tuesday of Georgian soldiers – a still-murky event that Mr. Saakashvili was quick to blame on a pro-Russian conspiracy inside his country's armed forces. Though Georgian authorities announced that the situation had been brought under control by Tuesday evening, and several former and current military commanders are now under investigation for plotting the alleged rebellion, people in Tbilisi say conditions remain tense.
Russian authorities, who angrily deny any involvement in the plot, insist the turmoil underscores their longstanding claim that Georgia is an unstable entity with an illegitimate leader that should not be playing host to NATO forces. Relations between Moscow and NATO, already at low ebb, appear set to plummet further after NATO grimly announced that the month-long war games, which involve 1,300 troops from 18 countries, will go ahead as planned.
---