At Cannes, vivid and violent films figure prominently
While the famed festival kicks off with Disney-Pixar's 'Up,' other titles are far less fanciful.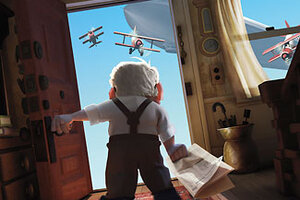 Disney/Pixar/AP
A priest-turned-vampire, a prison face-off with gang members, Nazi hunters, and a killer obsessed with revenge aren't exactly the characters or situations that leap to mind when thinking of the Cannes film festival. Yet these and other vivid, potentially blood-soaked themes are at the center of some of the films at Cannes' 62nd competition, which launched Wednesday with the world premiere of "Up," Disney-Pixar's fanciful animated adventure about an elderly widower's escape from modern life.
Much of the media's attention has focused on the plethora of major auteurs lined up by Cannes' festival director Thierry Frémaux – from Quentin Tarantino ("Inglourious Basterds") and Jane Campion ("Bright Star") to Michael Haneke ("The White Ribbon") and Alain Resnais ("Les Herbes Folles").
---