What's in a name? In Macedonia, this is no easy question.
In an interview, Macedonia's new president, Gjorge Ivanov, says he hopes to resolve a long-simmering name dispute with Greece.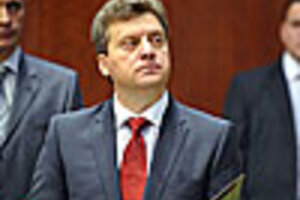 Boris Grdanoski/AP
At first glance, being Macedonia's president has never been better.
With the opening of a grand villa residence surrounded by shady pines, high on the slopes of Mt. Vodno overlooking Skopje, banished forever is the former ignominious reality of presidents sharing space in the antiquated parliament building downtown, almost 18 years since the small Balkan country declared independence from Yugoslavia on Sept. 8, 1991.
Despite the tranquility of his elevated quarters, however, the new residence's first occupant, who was inaugurated May 12, won't have time to relax.
Despite never having held public office, political science professor Gjorge Ivanov – once a student leader in the pro-democracy movement that helped topple communism in Eastern Europe – won in April as the candidate of the ruling center-right VMRO-DPMNE party.
Professor Ivanov campaigned under the slogan of "One for All." Indeed, considerable teamwork, consensus building, and foreign support – especially from the United States – will be essential for him to navigate through one of the most intractable, and certainly the strangest, of issues in the Balkans today: the dispute with Greece over Macedonia's right to its chosen name.
The name issue has been manipulated by politicians in both Athens and Skopje ever since Macedonia's independence. Greece immediately protested, claiming that the existence of its own, eponymous northern province, and issues of ancient historical heritage, precluded the possibility of a state named Macedonia.
---