Barcelona over Manchester United: a victory for Catalonia
The soccer team may reside in Spain, but it's raison d'etre is for regional autonomy.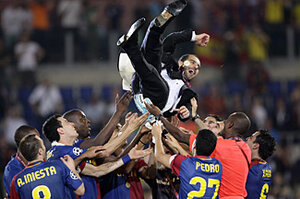 Darren Staples/AP
Short of gaining independence, the Catalan flag will probably never again wave en masse as it did throughout Spain and in many nations worldwide Wednesday night.
The source of such patriotic exuberance?
FC Barcelona beat Britain's Manchester United 2-0 to win the European Champions League, the world's most prestigious league soccer tournament.
In Plaza Catalunya, the heart of Barcelona, more than 100,000 people danced, hugged, and kissed through the night, climbing lampposts, lighting flares, and waving flags.
But unlike in other European cities, this party is not simple soccer mania. For many here, every "Barça" victory is an affirmation of Catalonia's autonomy and supremacy.
"Barça catalyzes Catalan nationalist identity," says Ferran Requejo, a political scientist in the Pompeu Fabra University in Barcelona. "Many thought this would end with the return to democracy [in Spain], but many sectors still think our autonomy is insufficient. Barça has taken the role of Catalunya's national team. When it wins, Catalans win, but not Spain."
Barcelona's motto is "més que un club" (more than a club). Founded in 1899 by a Swiss businessman, it was built around Catalan identity. Its sports statutes include defending Catalan culture, including its language and broader concepts such as liberty and democracy. Every player's jersey carries, not the Spanish flag, but a shield bearing the colors of the Catalan flag.
---