In Dresden and Nazi camp, Obama highlights capacity for reconstruction
The president visits the city that bore some of World War II's heaviest damage, as well as the death camp.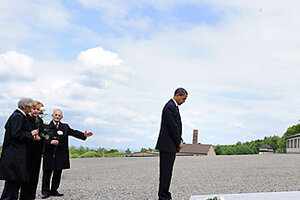 Oliver Multhaup/AP
A day after President Barack Obama made his appeal in Cairo for peace in the Middle East, he visited two sites in Germany that epitomize war's power to destroy as well as society's ability to rebuild.
Close to Buchenwald concentration camp, where 56,000 people, mostly Jews, died, and home of the newly restored Frauenkirche cathedral, which lay in ruins for decades after World War II, Dresden is one of the world's most powerful symbols of postwar reconciliation and reconstruction, says London-based Alan Russell, chairman of the Dresden Fund, which raised $2 million in recent years to reconstruct the famed church.
After angering many Israelis for a comparison made in his speech Thursday in Cairo of the Holocaust and Israel's occupation of Palestine, the Buchenwald visit also stands out as part of a careful diplomatic balancing act.
"His visit to Dresden makes the point that in a war, everybody suffers – even those who started it," Mr. Russell says, adding, "Obama shows he wants to turn tragedies into symbols of reconciliation."
---