Showcased at Greece's new Acropolis Museum: missing artifacts
Athens hopes the gallery, which opened Saturday, will push the British Museum to relinquish its half of the famed Parthenon Marbles.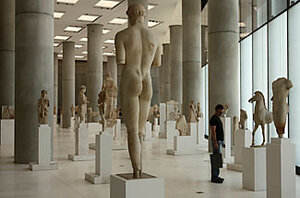 Yiorgos Karahalis/Reuters
Greece officially opened its long-awaited new Acropolis Museum Saturday, unveiling a spectacular new gallery to display the famous Parthenon Marbles.
But the new museum, more than 30 years in the making, will be defined as much by what it is missing as what it has on display: Nearly half the surviving sculptures from the Parthenon are exhibited in the British Museum.
The Greek government hopes the new museum will be a powerful tool in the campaign to win them back.
"Parthenon sculptures were looted. But this looting can be redeemed and repaired today," said Greece's Culture Minister Antonis Samaras, at a gala opening Saturday night. "The Acropolis Museum is a moral force that attracts the Parthenon Marbles back to where they belong. The marbles present are calling for the marbles missing."
Missing pieces put in spotlight
With the opening of the new museum, modern visitors can see for the first time the Parthenon Marbles laid out in succession as they were created, in sight of the famous building itself.
But for now, unnaturally white 19th century casts of the marbles held by the British Museum are interspersed with the pieces owned by Greece. The Parthenon Marbles, also known as the Elgin Marbles, were brought to Britain in the early 19th century by Thomas Bruce, the 7th Earl of Elgin, when Greece was part of the Ottoman Empire.
Although the museum's style is modern, Swiss-American architect Bernard Tschumi designed the museum with its contents, and specifically the marbles, in mind.
The museum is raised on concrete pillars over a classical and Byzantine-era archeological site. And the top-floor Parthenon gallery, made of black glass, is aligned with the Parthenon itself.
---