Banking, the Swedish model
Rising style of lending is built on long-term thinking – and on bearing in mind that the institution is dealing with real people's money.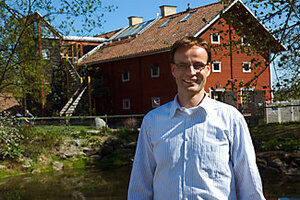 Johannes Lindgren
While many of Europe's largest banks were accumulating "toxic" assets in recent years, a gentler, quieter banking movement was emerging here that espoused a wholly different set of investment values.
Institutions such as Sweden's Ekobanken aim to not only keep clients' deposits safe, but also to invest in the "social economy," by funding projects like alternative energy, affordable housing, and organic farming.
Although some of the global financial giants have stumbled, these so-called social banks are reporting surprising successes.
"It's back-to-basics banking," says Kristoffer Lüthi, vice managing director of Ekobanken. "Lending out money to people and institutions you believe can pay it back, and not believing in a too-rapid financial development, because that's not sustainable in the long run."
A brisk business for Ekobanken
Located near Stockholm in the picturesque rural town of Järna, Ekobanken opened in 1998. In stark contrast to most of the banking industry "we've never had credit losses," Mr. Lüthi notes.
Last year brought a 12.5 percent increase in customers and a 38 percent jump in bank deposits, raising Ekobanken's balance sheet to about 400 million Swedish kronor (about $50 million). Since Ekobanken started, its balance sheet has risen by between 15 - 20 percent yearly.
Ulla Herlitz, chairwoman of Ekobanken's board, says, "We are working with the real economy and not the financial economy." When asked to define the term, "financial economy," Ms. Herlitz replies, "selling paper."
A May 2008 article in MoneyWeek warned that the world market in derivatives had grown to $596 trillion, noting that this was only "the nominal value of all the underlying assets against which bets have been placed."
---