Air France plane didn't break up? Skepticism grows.
Many wonder how French investigators, who announced their findings Thursday, could arrive at that conclusion when so little evidence has been recovered.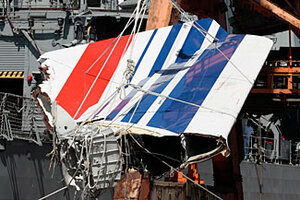 Eraldo Peres/AP
French accident investigators now say they believe Air France Flight 447 did not break-up mid-flight, but instead plunged on its belly into the water and broke up on impact. The conclusion is based on the condition of the wreckage recovered so far.
Investigators also said they would suspend the current search for the plane's flight-data recorders, which hold crucial information on the cause of the crash, on July 10. After that, they'll continue the search using advanced sonar technology.
All 228 passengers perished on the flight from Rio de Janeiro to Paris June 1.
The conclusion by the French accident investigation agency, known as the BEA, drew criticism from aviation analysts. But the decision to continue the search for the black boxes was welcomed.
Aviation analysts note the French investigators still do not have access to the autopsies of the bodies recovered from the crash, which led Brazilian authorities to conclude the plane probably broke up mid-air. Analysts also wonder how such a conclusion could be reached with the small amount of wreckage recovered so far. They note that it's possible for one or more of the plane's components to have failed or broken up in the flight, which could have precipitated the fuselage's plunge into the ocean.
"How do they know [the plane broke-up on impact] based on what little information they have so far? It seems like a pretty big leap," says Clint Oster, an aviation expert at Indiana University at Bloomington. "It may well be that the wreckage pattern indicates that most of the airplane was intact when it hit, but there's a big difference between most of the airplane being intact and all of the airplane being intact."
---