Italy's Obama? First black mayor is voice of right-wing party
Sandy Cane is a member of the Northern League, a party leading the charge against the flow of illegal immigrants to Italy.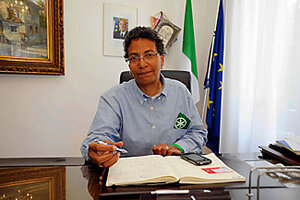 Maurizio Maule
One of its campaign posters shows the profile of a North American Indian chief, complete with feather headdress, and the words: "They had immigration imposed on them – and now they live on reservations."
Italy's right-wing Northern League has long been accused of scaremongering by whipping up opposition toward immigrants, refugees, and asylum seekers. But the party, which critics condemn as racist and xenophobic, is in the ascendant.
During European Parliament elections last month, the party received twice as many votes as it did during an earlier election in 2004, increasing its share to 10 percent.
Now, the league has surprised its critics with an unlikely new champion: Sandy Cane, a half-American black woman whose Massachusetts-born father was a paratrooper in the US Army during World War II.
Ms. Cane, who became Italy's first black mayor, was elected in a local contest held concurrently with the European Parliament vote. She is being hailed as "Italy's Obama" and her dark curly hair and her skin tone are the legacy of a mixed race heritage similar to that of the US president. They even share the same birth year.
There the similarity ends, however, because Cane's politics place her firmly to the right of Mr. Obama.
Crackdown on illegal immigrants
The Northern League, which for years has campaigned for more autonomy for Italy's affluent north, has been the driving force behind a tough crackdown on illegal immigrants, including a recently passed law which makes the very fact of being in Italy without the proper papers a criminal offense. The policy is aimed at the tens of thousands of illegal immigrants who have flocked to Italy from Africa, Asia, and Eastern Europe and whom many Italians accuse of being behind street crime, including several high-profile rapes.
---