What makes this Bastille Day different?
A resurgence of Firemen's Balls, and spotlights on Sarkozy, Johnny Hallyday, and Indian troops.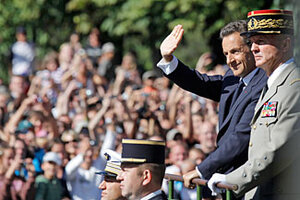 Thibault Camus/AP
Bastille Day brought clear skies and unusually clear streets around Paris as the nation celebrated its famed revolution with a military parade (dating to World War I) down the Champs-Élysées. It's traditional for French allies to be invited to participate. This year, 374 red-tufted members of India's Maratha Army regiment marched from the Arc de Triomphe past guest of honor Manmohan Singh, India's prime minister.
July 14, France's fête nationale, is the No. 1 state holiday – inspired by the storming of Paris prison castle Bastille in 1789 that abolished aristocratic privileges, and three years later led to the toppling of the monarchy. The holiday dates to 1880.
In much of France now it is a feel-good day: go outdoors, get together, stroll. More than most holidays, the French shut off the world. The Bastille Opera house offers a free performance. This year, it's a work by German Anselm Kiefer.
Some 700,000 are gathering this evening at the Champ de Mars, adjacent to the Eiffel Tower, where iconic 1960s rocker Johnny Hallyday, a sort of French Elvis and friend of President Sarkozy, will play. (Mr. Hallyday's appeal is egalitarian; he's liked by older communists and conservatives alike.) Afterward, the night will be lit up with fireworks celebrating the 120th anniversary of the Eiffel Tower.
---