Massive bomb in Spain signals a militant group determined to fight on
Basque militants seek relevance with violence as car bomb guts building filled with sleeping families.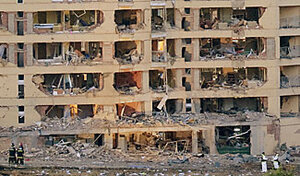 Felix Ordonez/Reuters
A powerful car bomb ripped through a building housing Spanish paramilitary policemen and their families just before dawn Wednesday morning, injuring 65 people and sparking worries that the country's Basque separatists are veering in a more deadly direction.
Spanish Interior Minister Alfredo Pérez Rubalcaba promptly blamed ETA, a Basque movement that has used terrorist tactics to press its cause – an independent state – for much of its 50 years in existence. But it's been years since a mass-casualty attack on civilians. Only one murder in Spain was blamed on the group last year, which compares with 100 killed in 1980 and 21 killed in a 1987 supermarket bombing, the group's last mass-casualty attack. Though ETA continues to plant bombs, they are generally small and accompanied by a call with advance warning on when they are to explode.
This one was different. There was no warning call about the stolen van packed with 450 pounds of explosives and parked in front of the building in Burgos, a small city 150 miles north of Madrid. Mr. Rubalcaba said the bombers' intent was to kill the maximum number of people. "This was a great failed attempt," he told reporters in Burgos. "Almost 120 people slept in the apartments – 41 of them children – which exposes the especially gutless nature of the attack." The van was apparently stolen in France, which also has a Basque minority.
---