Why Lockerbie bomber is likely to be released
The Libyan intelligence agent convicted in the 1988 bombing of Pan Am flight 103 drew closer to release from a British jail on Tuesday when a procedural hurdle was removed.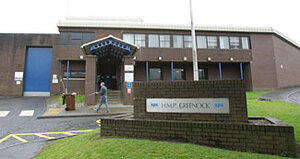 Alastair Grant/AP
This week, Britain came within a whisker of releasing on "compassionate" grounds an ailing Libyan intelligence agent who was convicted for planting the bomb that killed 270 people on Pam Am Flight 103 over Lockerbie, Scotland in 1988.
The British press reported that the release was headed off by furious US lobbying. Until 9/11, the bombing – which killed 180 Americans – was the deadliest terror attack on US civilians. But speculation is still strong that Abdelbaset al-Megrahi, the quietly spoken agent sentenced to life in prison for Britain's deadliest ever terror attack, could be headed home soon to spend his last days with his family. Mr. Megrahi is reported to be diagnosed with cancer.
On Tuesday, a Scottish court allowed Megrahi to drop an ongoing appeal, something that was an obstacle to his possible early release. Now, most British observers expect he'll soon be sent home, where he is expected to receive a hero's welcome.
The debate over releasing Megrahi has reopened old wounds for the families of victims and created a rare cross-Atlantic spat, with the Obama Administration staunchly opposed to either a release of Megrahi or his transfer to Libyan custody, something Scotland Justice Secretary Kenny MacAskill is also considering.
---