Lockerbie bomber, convicted of killing 270, released
Scottish justice secretary insists Scottish values allow convicted murderer to go home after 8 years in prison, prompting outrage from victims' families.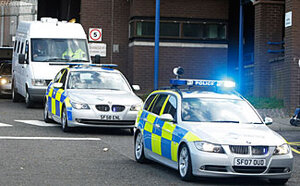 Alastair Grant/AP
Despite intensive last-minute lobbying by the US government, the Libyan intelligence agent convicted of the 1988 bombing of Pan Am Flight 103 and killing 270 people is on his way home to Libya today after serving just eight years of a life sentence in a Scottish prison.
Abdelbaset al-Megrahi, who is said to be suffering from a terminal illness, was released today on compassionate grounds by Scotland's justice secretary, Kenny MacAskill. At around 2:30 in the afternoon in Scotland, a commercial jet dispatched by Libyan dictator Muammar Qaddafi touched down in Glasgow to whisk Mr. Megrahi home to a hero's welcome. A few minutes later, a convoy of vehicles departed Greenock Prison where a crowd of Scottish locals hurled jeers at the white van in the center of them.
Megrahi was the only man ever convicted in the 1988 attack, which killed 189 Americans, making it this country's single largest terrorist attack on civilians before Sept. 11.
"In Scotland, we are a people who pride ourselves on our humanity," Mr. MacAskill said in a statement. "Compassion and mercy are about upholding the beliefs we seek to live by ... no matter the severity of the provocation or the atrocity perpetrated. "For these reasons alone it is my decision that Mr. Al-Megrahi be released on compassionate grounds and allowed to return to Libya to die."
---