Do women make better riot police?
In London, women commanders are tasked with keeping the peace amid five days of protest by environmental activists. In April, G-20 protests turned deadly.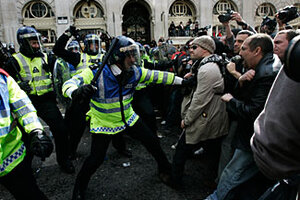 Lefteris Pitarakis/AP
After months of taking a beating over allegations of heavy-handedness, Britain's largest police force is trying a new tack: handing women commanders the reins.
In a bid to maintain control of a potentially explosive situation, the Metropolitan Police Service is taking a "softly, softly" approach this week as environmental campaigners undertake five days of action against targets ranging from government buildings to the offices of multinational mining firm Rio Tinto.
The hope is for an outcome sharply different from that of London's Group of 20 conference in April. Scotland Yard's reputation took a hit after sharp clashes between hundreds of riot police and protesters – many of whom accused the police of unprovoked attacks – resulted in the death of a newspaper vendor who was simply trying to make his way home.
The move is based on the theory, according to some experts, that policewomen often view their work as a public service, while policemen approach their task from the perspective of "control through authority."
But beyond repairing policing's image, the handling of the event by the two women is also regarded as a landmark moment for women's progression in policing.
---