Secular France gives religion a seat at the political table
The opening of a Foreign Ministry office for religion signals a rising awareness of the political clout of the world's faiths.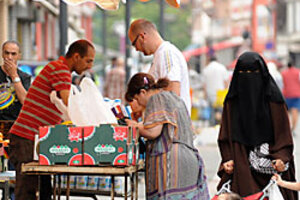 Farid Alouache/ Reuters
Barack Obama's speech to the Muslim world in Cairo had real political effect upon efforts to reconcile US-Muslim griefs – as analyzed by a new and unusual office for religion in the French Foreign Ministry.
"No French president could have given that speech," says Joseph Maila, head of the new Quai d'Orsay religion group. "It was strange from the French point of view. [President] Sarkozy won't talk to 'the Muslim world' or 'the Jewish world.' So we were interested in the goals and ideas of the Americans."
France has long been avowedly secular in public affairs. This continues to be true in its proud diplomatic corps.
But this summer, the Foreign Ministry added the first religion office, located in the policy planning team.
The group is a tacit acknowledgment that faith and religious impulses can no longer be ignored in daily politics among nations – or inside a France whose No. 2 religion is now Islam, and where Buddhist traditions are taking off.
Integrating religion to strategic thinking
As ideologies crumbled after the cold war, religion and identity rushed into the vacuum, according to the French analysis. Religion often substitutes for politics, in this view, and France must move past the days when its chief nod to religion was one diplomat devoted to the Vatican. "We have integrated demographics, the environment, pandemics to our strategic thinking," Foreign Minister Bernard Kouchner told Le Monde. "Why not religions? All the wars I knew included a religious dimension to various extents."
---