After the fall of the wall: Middle Europe reemerges – sort of
The connections of the old Habsburg Empire have reappeared, post cold war, but regional identity has not.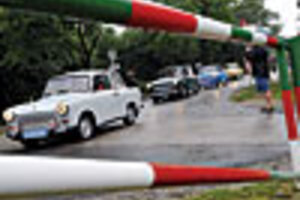 Attila Kisbenedek/AFP Photo/Newscom
For Attila Fersch, the trees lining the narrow country lane between Sopron and the Austrian village of St. Margarethen symbolize all this hometown has been through over the past century.
The newly paved track, reopened just months ago, was the main route between Sopron and the Slovakian capital, Bratislava, back when Hungary, Austria, and Slovakia were part of the Austro-Hungarian Empire. Sealed in 1948 with gates and barbed wire, it had become nothing more than a rutted track lined by overgrown mulberry trees.
"These trees were planted before World War I and they've survived the collapse of an empire, two world wars, and the cold war," says Mr. Fersch, a park ranger, as he drives across the unmanned border into Austria. "Now we can drive between them again, all the way across the region, and that gives me a satisfied feeling that there are no limits on us."
The 20th century imposed many limits on Sopron.
When the Austro-Hungarian Empire was dismantled after World War I, the new frontier severed Sopron from its hinterland. The Iron Curtain surrounded it on three sides during the cold war, cutting off roads, trade, and contacts among neighbors, friends, and family.
LIKE THEIR GREAT GRANDPARENTS DID
Today, the Iron Curtain is gone and, since the end of 2007, so is the frontier. Cities and villages across Central Europe are starting to heal together. Vast swaths of the old Habsburg Empire – the fabled lands of Middle Europe – are borderless again, 90 years after the region was shattered into a mosaic of rival nation-states.
---