Will German voter doubts undermine Merkel's coalition hopes?
New poll indicates Merkel's desire for center-right government may be out of reach as Sept. 27 election looms.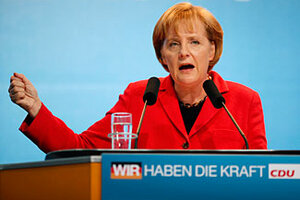 Christian Charisius/REUTERS
"A vote for assurance": It's German Chancellor Angela Merkel's campaign poster on the streets of Berlin, with the world figure who has led Germany for four years sporting a purple top, looking maternal and wise. Ahead of Sunday's national elections here – the slogan appears to be truth in advertising, since there's little doubt she'll be returned to power, polls show.
Yet apart from Mrs. Merkel's hold on the top job, little else is as clear about an election that, despite the chancellor's conscious attempt to keep it dull and comforting, has many Germans quite undecided about their vote and political analysts baffled about what the next government will look like.
Will the current blurry "grand coalition" of the right and left, the Christian Democrats (CDU) and the Social Democrats (SPD), continue on – despite a popular feeling that it lacks direction and a capacity for change? (In TV debates last week, Merkel and SPD leader and Foreign Minister Frank-Walter Steinmeier were so congenial that a journalist described them as "sounding like an old married couple.")
Or will Merkel achieve her desired "center-right" government with the pro-business, tax cut Liberal Party (FDP) – whose leader, Guido Westerwelle, would become Germany's first openly gay foreign minister?
A new poll obtained by the Monitor and to be published Wednesday, shows that this may not be possible.
---