Britain's Cameron – prime minister-in-waiting?
At the Conservative Party's conference Thursday, David Cameron will try to project a more compassionate image even as he calls for public-spending cuts and tax hikes.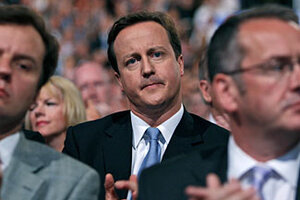 Jon Super/AP
When David Cameron strides up to the podium at the Conservative Party conference on Thursday, he will do so as Britain's prime minister-in-waiting.
His party is the runaway favorite to lead the next government. All week, Mr. Cameron has urged humility on his center-right Tory party and warned that victory in elections to be held before May 2010 is not assured.
He may have a point. Though recent polls show the Tories between 12 and 15 points ahead of the incumbent Labour Party, any Tory disarray in the election runup could result in a hung parliament, where Cameron does not have an outright majority or controls only a narrow advantage.
The sheer scope of the task facing Cameron remains daunting. His party need to gain 117 seats to win a parliamentary majority of just one.
"The situation is dire for Gordon Brown; the party is in a rut," says Gavin Hayes, general secretary of Compass, a grassroots Labour lobby group. "But the election may be much closer than the polling suggests, especially if people conclude that Cameron's claim to [be] a friend of the poor and public services simply isn't true."
---