Silvio Berlusconi sues Italy's press and protesters fight back
Italian Prime Minister Silvio Berlusconi already controls much of the private media. Now, critics say, he's using lawsuits and pressure to muzzle independent and state-owned press.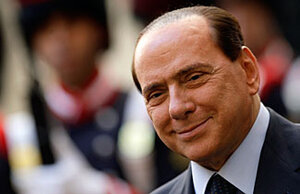 Tony Gentile/REUTERS
Italy may no longer rank among the Western democracies that takes press freedom for granted.
On Saturday, 300,000 Italians hit the streets to protest Prime Minister Silvio Berlusconi's recent attacks on the media. The national guild of journalists accused the government of "undermining" efforts to criticize the government and inform the public.
The protest was spurred by two lawsuits Mr. Berlusconi recently brought against Italian newspapers that have written about his extramarital affairs. In one of the suits, the prime minister is seeking €2.6 million ($3.8 million) in damages from L'Unità, a left-leaning newspaper that sells about 60,000 copies, for offending his honor.
"If we lose, we cannot pay," says Gian Maria Bellu, the deputy chief editor. "They're trying to put us out of business."
Bellu says the deck was stacked in Berlusconi's favor when he recently passed a law granting himself immunity from the sorts of lawsuits he's now pursuing. "It's like challenging someone to a honor duel when you're wearing armor and the other guy is naked," Bellu says. "He can sue us because he is offended by our articles, but we cannot sue him back even if he calls us names."
Berlusconi has been known to dismiss unfriendly journalists as "thugs," and has said that the media is "full of crooks" – even though he controls most of the country's press. His family owns one of the two major Italian news magazines, two daily newspapers, and three of the seven major TV channels.
---