Britain's Brown considers 500 more soldiers in Afghanistan
Prime Minister Gordon Brown says the UK will add the troops if the British military properly equips them, the Afghan army recruits more soldiers, and other NATO countries 'bear their fair share.'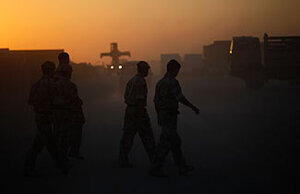 Brennan Linsley/AP
British prime minister Gordon Brown's announcement Wednesday that he will likely send 500 more troops to Afghanistan is being viewed with some puzzlement in a Europe that, so far, has turned a deaf ear to President Barack Obama's entreaties for more NATO forces.
The UK has been America's most reliable ally in Afghanistan during eight years of war, with the 9,000 British troops there now second only to the US contingent of about 65,000. But amid a debate in Washington over expanding the war, in which chief Afghan war planner General Stanley McChrystal is pushing for 40,000 more troops, the small size of the proposed British increase and the caveats Mr. Brown placed on it demonstrate that a large increase from other allies to match any new US commitment is unlikely.
Europe's standing armies are much smaller than that of the US. Britain, France, and Germany have collectively about 350,000 active duty soldiers. The US army has about 550,000.
European leaders, who by and large have remained supportive of the war even as polling shows most of their citizens are turning against it, are now waiting to see which way President Obama jumps on the troop request before taking new positions of their own.
---