In Paris, Benjamin Netanyahu finds growing European doubt on Middle East peace
Israel Prime Minister Benjamin Netanyahu was in France on Wednesday, as President Nicolas Sarkozy's government wonders if Israel is interested in peacemaking with the Palestinians.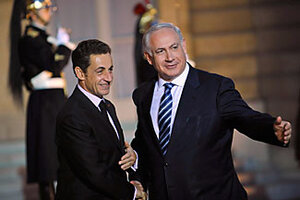 Philippe Wojazer/Reuters
Europeans, and the French in particular, strong backers of Washington's efforts to broker a Mideast deal, are starting to register frustration with the White House's handling of Israel-Palestinian relations.
Palestinian leader Mahmoud Abbas is threatening to quit in January, and efforts toward Israeli-Palestinian peace are completely stalled. Now the Europeans are searching for ways to push both Americans and Israelis to solve what they see as a deteriorating situation in the West Bank and Gaza, with the French leading the way.
Despite French President Nicolas Sarkozy's close ties to Israeli Prime Minister Benjamin Netanyahu, who was in Paris on Wednesday, Mr. Sarkozy told the Israeli leader that progress on peace with the Palestinians remains a priority, diplomats said.
Europeans do not have a strong hand, diplomats here admit. Yet the recent shift by President Barack Obama from demanding a "freeze" on settlement expansion in June to a call for "restraint" on settlements, is regarded by many here as a step in the wrong direction.
In Paris, President Obama's shift in position is seen as abrupt, and as the principal reason Mr. Abbas announced he was quitting, potentially depriving the peace process of the Palestinian leader that America, Europe and Israel must trust.
---