New literary star Marie Ndiaye takes on France's old guard
Marie Ndiaye won the Prix Goncourt for tackling immigration in her novel "Trois femmes puissantes." She refuses to retract her equally bold criticism of Sarkozy's France.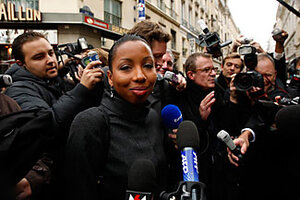 Benoit Tessier/Reuters
France's old guard wants Marie Ndiaye to know her place. But France's new literary star isn't playing that game.
Ms. Ndiaye last week won France's most prestigious literary award, the Prix Goncourt, for her novel "Trois femmes puissantes" ("Three Powerful Women"), which ends with an African woman who dies trying to reach the shores of Europe. It is a story understood well in the French banlieue, and a subject of mixed remorse and indifference on the continent. Ndayie is the first black woman – she is of Senegalese-French heritage – to win the award.
Now Paris is embroiled in a small November storm over comments the writer made this past August about France under President Sarkozy. In an interview with the magazine Les Inrockuptibles she described "the climate of heavy policing and surveillance [under Sarkozy] hateful.... I find this vision of France hideous." She made the comments from Berlin, where she moved in 2007 after Sarkozy was elected, calling it a freer city.
When the statements were industriously unveiled by the French media, a leading French member of President Sarkozy's party, Éric Raoult, fired off a letter to French cultural minister Frédéric Mitterand, stating that Ndiaye should be censured and asked to recant. He gave interviews with a similar message to that of his letter:
"It seems to me that the right to express one's self cannot be turned into the right to insult or settle one's own personal scores.... A well-known person who defends France's literary accomplishments must show some degree of respect toward our institutions."
---