Swiss minaret ban reflects European fear of Islam
The Swiss vote to ban minarets comes at a time when Muslim populations are growing and Europeans worry about losing traditional Christian culture.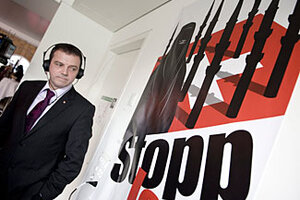 Marcel Bieri/Keystone/AP
The Swiss vote yesterday to ban the construction of minarets in their alpine country is rippling across Europe. The vote reflects a fear that some of the oldest Christian societies are becoming Islamicized, but is at odds with efforts to integrate the continent's roughly 20 million Muslims.
Churches and mainstream political parties urged the Swiss to turn down the proposal, brought by the rightist Swiss People's Party (SVP). But 57 percent of voters in Sunday's referendum defied expectations that they would allow a new kind of religious symbol – the tall, slender tower attached to a mosque – to increasingly punctuate Europe's skyline where steeples once reigned.
For those voters, says religion researcher Jean-François Mayer, minarets are a symbol of Islam and its potential rise in influence – an issue around which many different concerns can crystallize, not just in Switzerland but across Europe. Using a tool not available in other countries, the referendum, Swiss voters sent a clear message.
"The vote is sending a strong signal about the concerns of average people regarding Islam; it will encourage people in other countries to develop strategies," says Dr. Mayer, head of Religioscope, a research institute in Fribourg, Switzerland. If other European countries held similar votes, he adds, he has "no doubt that the results would be similar."
Blow for democracy?
Although the Swiss Constitution guarantees freedom of religion, the SVP and another small party had campaigned to insert a sentence banning the construction of minarets.
---