Clock ticking as Copenhagen global climate change summit begins
The Copenhagen global climate change summit began Monday with new urgency for a deal, and eyes on China and the US.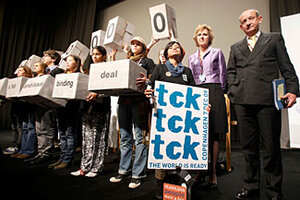 Bob Strong/REUTERS
Delegates from more than 190 countries today opened what some are calling a historic round of talks on climate change in Copenhagen. But the final chapters remain to be written.
Not since the 1997 negotiations in Kyoto, Japan have talks on global warming attracted such high-level political involvement. Leaders from some 110 countries, including President Obama, are slated to appear at the end of the conference to help give the meeting a push toward what lead US negotiator Jonathan Pershing calls "a comprehensive, operational Copenhagen accord."
"This conference has already written history," said Yvo de Boer, the UN Framework Convention on Climate Change's executive secretary, arguing that delegates' opening statements indicated that countries "want to deliver a strong ambitious outcome in Copenhagen. This conference will write history. But we need to make sure it writes the right history."
The effort will not be easy, Dr. Pershing added. "There is much work to be done."
---