UK approach to militant Islamists holds lessons for US
The UK says the US could learn from its counter-terrorism strategies to handle militant Islamists, which include increased cooperation between intelligence agencies and reaching out to Britain's 2.5 million Muslims.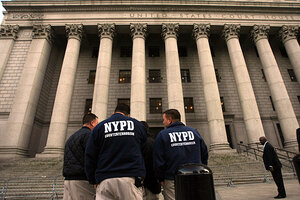 Mary Altaffer/AP/File
A few days before Anwar al-Awlaki was to speak by video link to a fundraising event for Guantánamo Bay prisoners, officials at the London borough hosting the event were told of his militant beliefs.
The US-born Mr. Awlaki – a preacher who urges Muslims to take up arms against his native country and a religious adviser to Maj. Nidal Malik Hasan, the Army psychiatrist accused of killing 13 soldiers at Fort Hood, Texas, on Nov. 5 – was promptly barred from the Aug. 30 dinner.
It was quick work by the Royal Borough of Kensington and Chelsea. But his invitation underscored the difficulty of keeping tabs on who is speaking to, and for, Britain's estimated 2.5 million Muslims.
Observers say the British experience of tackling home-grown Islamist militants is laden with pointers for US authorities. After four British Muslims carried out the July 2005 attacks on the London transit system that killed 56 people, security services set aside traditional splits between domestic and foreign intelligence work.
---