At Copenhagen global warming talks, Clinton pledges US support for $100 billion fund
At the global warming summit in Copenhagen, Secretary of State Hillary Clinton said the US is willing to contribute to a $100 billion a year fund to help poorer countries mitigate the effect of climate change. But a strong agreement still looks unlikely.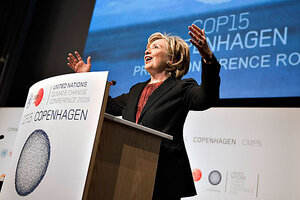 Henning Bagger/Scanpix/Reuters
Danish hosts re-launched U.N. climate talks on Thursday after the United States backed a $100 billion global fund to support poor countries and world leaders gathered for a final effort to reach a deal.
Ministers urged action as Danish Prime Minister Lars Lokke Rasmussen dropped plans to present his own proposed draft texts which had stalled the process for more than 24 hours — developing countries had insisted everyone should be involved.
"The United States is prepared to work with other countries toward a goal of jointly mobilising $100 billion a year by 2020 to address the climate change needs of developing countries," Secretary of State Hillary Clinton told a news conference.
The European Union has proposed a $150 billion global fund, and the head of the African group of countries Ethiopia's Prime Minister Meles Zenawi on Wednesday supported climate aid for the world's poorest of $100 billion.
Agreement on a climate fund could add political drive to the U.N. talks which meant to agree a host of other measures on Friday, from saving rainforests to boosting carbon markets and stiffening global carbon emissions cuts.
Denmark's Rasmussen removed one obstacle to the talks on Thursday, withdrawing his disputed plan to nominate small groups of countries to storm through complex texts littered with long lists of options.
Negotiators have nearly run out of time to present world leaders with intelligible drafts to sign at the end of the Dec. 7-18 meeting.
"The conference is now at a critical juncture and we have now agreed how to proceed," said Rasmussen. "We now rely on the willingness of all parties to take that extra step to make that deal that is expected of us."
---