Climate talks: Clinton promises aid to poor nations – but China may resist
At the Copenhagen climate talks Secretary of State Hillary Clinton said the US could provide billions in aid to help poorer nations convert to clean technologies. But that's only if countries like China agree to monitoring of their climate change efforts.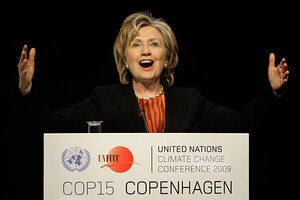 Anja Niedringhaus/AP
In an effort to clear a major hurdle toward a new climate agreement in Copenhagen, US Secretary of State Hillary Clinton announced today that the United States would take part in efforts to pull together long-term financing for developing countries to the tune of $100 billion a year by 2020.
The money would come from a combination of government-to-government aid, as well as from private-sector sources.
The US offer falls short of promising specific dollar amounts or what percentage of the tab Washington would be willing to pick up. And it comes with a pair of strings attached. US help will require "a strong accord in which all major economies stand behind meaningful mitigation actions and provide full transparency as to their implementation," Secretary Clinton said.
"Full transparency" appears to refer to countries like China and India, which have bristled at demands for independent monitoring as an attack on their sovereignty.
Despite the caveats, the offer sends a signal that the US is keen on reaching reaching what Ms. Clinton called a comprehensive, operational climate agreement here.
---