Silvio Berlusconi, bruised, leaves hospital and vows to get back to work
Italian Prime Minister Silvio Berlusconi left the hospital on Thursday, four days after an assault left him bloody and bruised. The aftermath of the incident has revealed a rising level of rancor in Italian politics.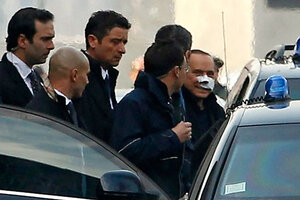 Giampiero Sposito/Reuters
Bruised and bandaged, Italy's prime minister, Silvio Berlusconi, was discharged from hospital on Thursday, four days after a lone protester smashed a souvenir statuette into his face.
The 73-year-old media mogul had a large bandage stuck to the left side of his face and over his nose, which was broken in the attack in central Milan on Sunday, as he mingled in a crowd of supporters following a political rally.
The assault has widened a deep rift between Italy's feuding political parties and further divided an already sharply polarized society.
In a country in which the flamboyant prime minister is loved and loathed in almost equal measure, passions have run high on the street, in parliament in Rome, and on the Internet, with the Left and Right blaming each other for rhetoric that made the prime minister a target for violence.
The country has been plunged into a frenzy of recrimination and accusation since Massimo Tartaglia, an electronics engineer with a history of mental problems, hurled a replica of Milan's famous cathedral at "Il Cavaliere," as the three-time prime minister is known.
Tartaglia, a loner who lived with his parents, is being held in prison and faces up to five years in jail for aggravated assault.
The prime minister's spokesman, Paolo Bonaiuti said that despite his injuries, his boss was keen to get back to running the country.
---