Tony Blair Iraq inquiry: Hussein was risk worth trying to contain
Former British Prime Minister Tony Blair is the top witness before Britain's inquiry into the Iraq war. With the future of his Labour Party on the line, Blair maintained in questioning Friday that Saddam Hussein was a threat in 2003 and that Iran's weapons program is a threat today.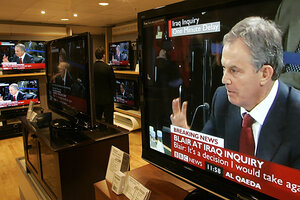 Akira Suemori/AP
Former British Prime Minister Tony Blair invoked the terror of 9/11 as he defended his support for the invasion of Iraq during an appearance Friday at Britain's inquiry into the war. With his legacy overshadowed by the 2003 intervention, Mr. Blair argued that while the 2001 attacks on the US had not changed the threat from Iraq, they completely shifted his perception of the risk posed from terrorists acquiring weapons of mass destruction.
"The crucial thing after Sept. 11 is that the calculus of risk changed," he said in an inquiry broadcast live on British television and on British news websites. "The point about this act in New York was that, had they been able to kill even more people than those 3,000, they would have. And so after that time, my view was, you could not take risks with this issue at all."
As police contained hundreds of protesters calling for Blair to be tried as a war criminal, the former premier arrived two hours early and entered via a back door before his highly anticipated appearance at the government-established investigation.
Blair testimony a political threat to Brown
But while Britain's involvement in the unpopular war has long been associated with Blair, the inquiry is suddenly emerging as a political threat to his successor, Gordon Brown, by reawakening of public memories of the conflict during an election year.
---