Burqas? No, bacon burgers are France's new cultural battleground
After fights over burqas and Muslim-rights and France's national identity, French politicians are taking on the burger. Because it's a symbol of American imperialism? Mais non! A French fast-food chain is dishing up a pork-free halal sandwich.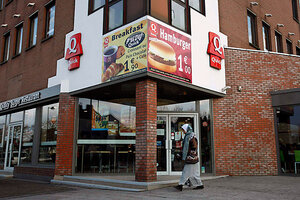 Pascal Rossignol/Reuters
In eight of 362 Quick burger joints in France they've gone pork-less.
The "offending" Quick outlets (three are in Paris suburbs) are located in predominantly Muslim neighborhoods, in an apparent concession to a $1.3 billion halal (meaning 'legal' under Islamic law) food industry. While French Muslims didn't ask for pork-free fast-food at Quick, they are appreciative of them, if sales are a sign.
Yet in a French election year where the burqa, or full length Muslim veil, is portrayed as a non-French symbol – the inalienable right to order a bacon burger is a new battleground.
The battle cry is not yet iberté, égalité, fraternité et porc! – one French mayor, the secretary general of the ruling political party, a government spokesperson, and Marine Le Pen, vice president of the anti-immigrant National Front, are all seeking to make the eight halal Quicks an example of the adulteration of French identity and principles ahead of March 14 regional elections.
A pork-less Quick – similiar to a kosher McDonald's or Burger King – means those who take both their kids and the Koran seriously can go to a popular fast food restaurant and not have to order only the fish.
---