European leaders spar over Greece bailout ahead of EU summit
France, Italy, and Germany are at loggerheads over a possible Greece bailout ahead of what was to be a routine EU summit this Thursday. Greece has threatened to go to the IMF if the EU can't help with the crisis.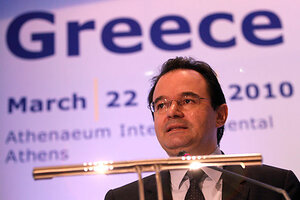 Petros Giannakouris/AP
The  debt crisis in Greece continues to bring out public, and not always amicable, efforts among European nations to compromise on a Greece bailout plan, ahead of what was to be a routine European Union summit this Thursday – with Germany seeming to hold out on even discussing a crisis that other nations say could harm the euro.
French and Italian leaders are insisting that the Greek debt crisis be discussed – while German Chancellor Angela Merkel insists that Greek leaders have yet to even officially claim that a bailout is needed.
Greek President George Papandreou, meanwhile, is visibly irritated with Ms. Merkel – whose popularity in Germany seems to rise with every "no" to Greek assistance. He is threatening to go to the International Monetary Fund if the EU can't help with a crisis that he doesn't want to call a crisis, for fear of further attacks on Greek market positions.
Mr. Papandreou has made it clear he wishes the EU summit to end with a eurozone package or plan for Greek aid in order to quiet markets.
---