British election is a race again as economy boosts Gordon Brown
Gordon Brown's government cut deficit forecasts today, which could give him a boost. While he was trailing badly, recent polls show a public nearly equally divided between Labour and Tory ahead of the British election.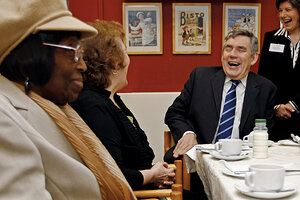 Andrew Winning/Reuters
After months of being regarded as a virtual shoo-in, British Conservative leader David Cameron suddenly has a fight on his hands to secure the keys to 10 Downing Street come election day – widely expected to take place on May 6. He came out swinging hard this week, calling Labour leaders "appalling people" and demanding heightened ethics rules.
A string of polls revealing a narrowing in Britain's general election race has suggested that, even after 13 years of an increasingly unpopular Labour government, crucial numbers of voters are still reluctant to swap the devil they know while a precarious economic recovery continues.
Although recent figures suggested that the Labour fight-back may be stalling, the public reaction to the new British budget released today and to Britain's first US-style televised debates in April will be decisive. In releasing the new budget, which cut the deficit forecast, treasury chief Alistair Darling aimed to spin Mr. Brown's government as a prudent financial steward that prevented a depression and can secure the country's economic recovery. But Brown still lags in polls.
Economy breathes life into Labour Party
How has Britain's battered and bruised prime minister, Gordon Brown, managed to come within a fighting chance of clinging to power? It's about the economy, stupid.
"The turning point was the publication at the end of January of final- quarter economic figures for 2009 which showed .01 percent growth," says Andrew Hawkins of polling firm Comres. The end of Britain's economic contraction "seemed to mark that point between Conservative leads averaging in double figures ... and the period after where the average shrunk to 6 percent."
---