Catholic sex abuse scandals: Three key cases facing Pope Benedict
The latest Catholic sex abuse scandals are confronting Pope Benedict with what one Catholic newspaper calls the "largest institutional crisis in centuries." In Germany, the church announced a hotline for victims of abuse. A summary of key cases that happened on Benedict's watch.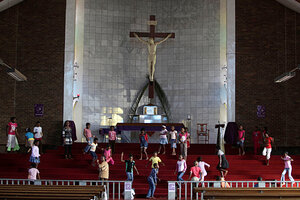 Denis Farrell/AP
Pope Benedict XVI is confronting the greatest crisis the Roman Catholic Church has faced since at least 2002, when a wave of scandals and lawsuits in the US hit the church. At that time, the Boston Globe uncovered the abuse of children by priests in the Archdiocese of Boston and provided evidence that church superiors had covered up their crimes.
Now, evidence of sexual abuse is once more rocking the church. But this time, it's global in scope, with fresh claims of abuse of boys and girls by priests in the US, Ireland, Holland, Italy, and in Pope Benedict's home country of Germany.
This week, the church in Germany announced it would set up a hotline for victims of sexual abuse under Bishop Stephan Ackermann. At a mass at St. Peter's on Sunday, Pope Benedict referred to faith helping Catholics not being "intimidated" by "petty gossip."
---