A government bailout for airlines after Iceland volcano?
Citing the government bailout after the Sept. 11 shutdown of US airspace, European airlines are seeking government compensation over groundings caused by the ash cloud released from an Iceland volcano. So are some stranded passengers.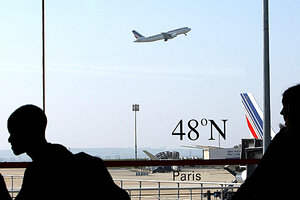 Jacques Brinon/AP
For six days, Lisa and John Hogan, and their 1-year old son, Simon, have been stuck in London – waiting to board a flight home to Australia.
Although airspace opened Tuesday at some airports in some parts of Europe – in France, Germany, and the Netherlands, for example – British skies remained mostly closed, and this, compounded with the massive backlog of flights, means that the Hogans, like hundreds of thousands of others, are still stranded.
Every extra day in transit, complains Lisa, is costing them "at least" 300 dollars, money they can ill afford. "What I want to know" says Lisa, is who is going to pay for all this?"
It's a question on many lips now.
With airline losses from the volcanic ash cloud now more than 1 billion dollars, several leaders of the airline industry are demanding compensation from their own governments or from the European Union. They argue that the airlines were forced to comply with national edicts.
---