Eggs flying in Parliament, Ukraine approves deal for closer Russia ties
The Ukraine parliament approved a deal today to extend a Russia naval lease on Sevastopol in exchange for cheaper gas, despite an egg-throwing fracas by enraged opposition members.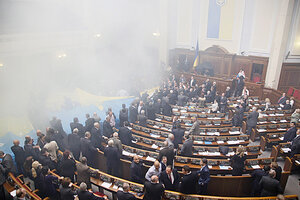 Efrem Lukatsky/AP
Amid smoke bombs and flying eggs hurled by enraged opposition deputies, Ukraine's parliament on Tuesday controversially agreed to extend the Russian Navy's lease on the Crimean port of Sevastopol for 25 years in exchange for billions of dollars worth of discounted Russian gas.
"Today will go down as a black page in the history of Ukraine and the Ukrainian parliament," said Yulia Tymoshenko, the former prime minister who was narrowly defeated by pro-Moscow Viktor Yanukovich for the presidency in February polls.
Opposition leaders say it effectively maintains the Black Sea as a Russian-dominated lake, and compels Ukraine to involuntarily back Moscow's military actions such as the Russian Navy's blockade of Georgia during the brief 2008 war between Russia and Georgia.
News agencies reported that 10,000 protesters rallied outside the parliament in central Kiev (Kyiv) Tuesday shouting, "Don't sell Ukraine to Russia" and "Death to the traitors." But lawmakers inside ratified the deal with 236 votes, a 10-seat majority in the 450-member Supreme Rada.
---