David Cameron led Conservatives to power by moving to the center
New UK Prime Minister David Cameron led his Conservative Party out of the political wilderness by moving his party to the center -- and further away from their American cousins in the Republican Party.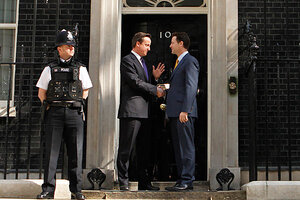 Alastair Grant/AP
Amid conservative elation at David Cameron's appointment as Britain's new prime minister, it's easy to forget that five years ago his Conservative Party was viewed by pundits as moribund and regularly being written off as a spent force.
Tearing itself apart over issues such as Britain's relationship with Europe and struggling to come to terms with three fairly comprehensive general election defeats, the party turned to Mr. Cameron, then just 39, to lead it back to power.
Just how he rejuvenated the Tories – by broadening their demographic appeal, softening often shrill messages on immigration, and even embracing some traditionally center-left positions – is causing some of his conservative counterparts across the Atlantic to take notice.
"Among American Republicans, some of us are very interested in how the Conservative party in the UK has adapted its approach and looked at the concerns of those voters who are neither strongly Conservative, nor strongly Labour, by saying: 'we have something for you and we understand you,' " says Thomas Grant, Chairman of Republicans Abroad UK. "There are certainly candidates in parts of the US who are going to look at this as an example to be followed and I can assure you that at the level of the Republican National Committee there are people who also see this as something that needs a close look."
---