Russian ex-tycoon Khodorkovsky threatens hunger strike
Former Russian oil tycoon Mikhail Khodorkovsky threatened a hunger strike until President Dmitry Medvedev acknowledges that the state is violating the law when it comes to the conditions of his detention.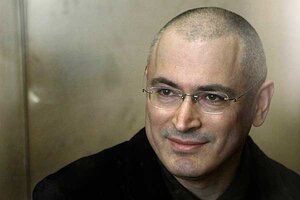 Misha Japaridze/AP/File
Jailed former oil tycoon Mikhail Khodorkovsky said he will go on a hunger strike until Russian President Dmitry Medvedev explains why a newly-passed law isn't being implemented in his case.
Mr. Khodorkovsky's lawyer, Vadim Klyuvgant, said his client is addressing the president because a law specifically championed by Mr. Medvedev and signed by him last month is being openly flouted by a Moscow court.
"It seems the life our president lives, and the initiatives he announces, do not even cross paths with the lives led by the rest of us," Mr. Klyuvgant says. "(The Moscow court) is committing an act of sabotage by simply ignoring a law signed by the president of this country."
In an open letter published on his defense committee's Website Tuesday, Khodorkovsky said that he should be eligible for temporary release given a new law that banned holding suspects in white-collar crimes at pre-trial detention centers. Russia's network of such centers, known as SIZOs, have come under intense scrutiny since the unexplained death of lawyer Sergei Magnitsky in a Moscow SIZO last year.
---