Cannes Film Festival's 'Hors la Loi': How well does France face its past in Algeria?
At the Cannes Film Festival last month, riot police reined in protests over 'Hors la Loi,' a film that sparked clashes over the French Army's 1945 massacre in Algeria of at least 10,000.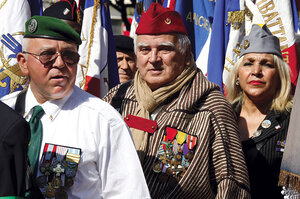 Eric Gaillard/Reuters
A new film by French-Algerian director Rachid Bouchareb has again opened a "clash of memory" over France's difficult colonial past in Algeria and its effect on millions who got caught in a bitter and bloody struggle that ended with Algerian independence in 1962.
"Hors La Loi," or "Outside the Law," aired at the Cannes Film Festival last month, bringing protests for being "a partisan, militant ... film that compares the French to the SS and the French police to the Gestapo," as politician Lionel Luca, who had not seen the film, described it.
French intellectuals immediately rejoined, saying, "We can fear the worst when political power commits to [re]writing the history that citizens see on film screens."
IN PICTURES: Cannes Film Festival 2010
Much of the controversy centers on Mr. Bouchareb's depiction of the Setif massacre, a slaughter by the French Army of at least 10,000 Algerians. In a tragic irony, the massacre started on May 8, 1945 – V-E Day in Europe, when allied forces were celebrating liberty, democracy, and the triumph over totalitarianism and fascism in Europe.
---