G20 summit: an economic clash of civilizations
This weekend's G20 summit pits President Obama's stimulus efforts against European calls for austerity budgets in what is shaping up as an economic clash of civilizations.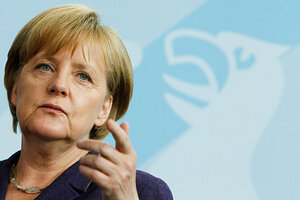 Markus Schreiber/AP
This weekend's G20 summit is shaping up as an economic clash of civilizations – or at least a clash of EU and US economic views.
EU officials led by German chancellor Angela Merkel are on a national "austerity" budget cutting offensive as the wisest policy for economic health, ahead of the Toronto summit of 20 large-economy nations.
Ms. Merkel Thursday said Germany will continue with $100 billion in cuts that will join similar giant ax strokes in the UK, Italy, France, Spain, and Greece. EU officials say budget austerity promotes the stability and market confidence that are prerequisites for their role in overall recovery.
Yet EU pro-austerity statements in the past 48 hours are also defensive – a reaction to public statements from US President Barack Obama and G20 chairman Lee Myung-bak, South Korea's president, that the overall effect of national austerity in the EU will harm recovery. They are joined by US Treasury Secretary Tim Geithner, investor George Soros, and Nobel laureate and columnist Paul Krugman, among others, arguing that austerity works against growth, and may lead to a recessionary spiral.
---
Follow Stories Like This
Get the Monitor stories you care about delivered to your inbox.