Spain vs The Netherlands: No dramas, just pure soccer
In Sunday's match of Spain vs The Netherlands, most Europeans are excited about watching two great teams whose styles and history go way back, but who have never won.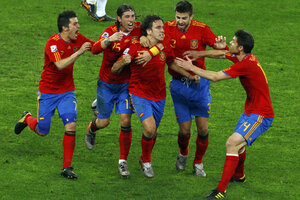 David Gray/Reuters
Spain and The Netherlands have exciting and storied soccer teams that make the highlight reels. But neither has made it to the World Cup victory circle. The two teams meet Sunday after a memorable African-hosted Cup in which European teams first appeared ready to fold in the face of South American soccer style.
Now Spain or the Netherlands, both solid and talented teams, even if known as underachievers -- will be the first Europeans to win a World Cup held outside Europe. Spain is considered to have the finesse; the Dutch have toughness.

To be sure, "there's no big European identity when it comes to soccer, everyone roots for their national team," says a French soccer blogger Thomas Fourquet. "If anything, you have a favorite team, and then a second favorite, which is often Brazil or Argentina."

Sunday marks the first Spanish visit to the finals -- and also clocks the first time either team will ever win the Cup.
IN PICTURES: Top 2010 World Cup controversies and 10 World Cup players to watch
---