Russian art curators fined for controversial images of Jesus
Two Russian art curators were found guilty, after a 14 month trial, of violating Russia's tough hate-speech law. Some say the verdict protects religious values, but others decry it as censorship.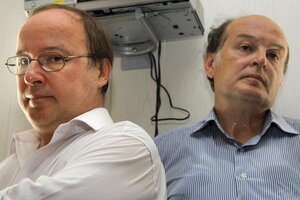 Mikhail Metzel/AP Photo
A Moscow court' found two former museum curators guilty of "inciting hatred" against Christians. But some Russian analysts say the verdict will cast a chill over artistic freedom in Russia and encourage extreme nationalists to target a wider range of liberal voices.
At issue was a 2007 exhibition at the Sakharov Museum that featured "images which are derogatory and insulting to Christianity and religious people," which is a serious crime under Russian law.
Entitled "Forbidden Art," it aimed to challenge censorship and included several controversial images of Jesus – including one which replaced his head with that of Mickey Mouse, and another with the Soviet-era Order of Lenin medal.
Moscow's Tagansky court ruled that the former director of the Andrei Sakharov Museum, Yury Samodurov, and the ex-head of the Tretyakov Gallery's modern art section, Andrei Yarofeyev, "committed actions aimed at inciting hatred." The 14-month trial included more than 134 witnesses for the prosecution, most of whom admitted they had never viewed the art works in question.
---