Diaries of Yugoslavia wars fugitive surface
Ratko Mladic, architect of Srebrenica massacre during the Yugoslavia wars, may have left evidence in thousands of hand-written pages.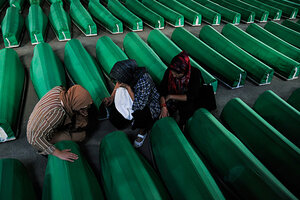 Dado Ruvic/Reuters
Some 18 war diaries purportedly written by Gen. Ratko Mladic, the No. 1 fugitive now at large from the Yugoslav wars and architect of the Srebrenica genocide, may be the most significant trove of evidence obtained in years by a tribunal in The Hague trying to create a record of the worst crimes in Europe since World War II.
Or it could be Serbia's way of saying: We are never going to capture Mladic, so here are some of his (edited) diaries, instead.
The 3,000-plus pages linked to the Bosnian Serb commander were found in February in a wall at his former Belgrade apartment using high-tech cameras. Serbia shared them with The Hague tribunal, which ruled them authentic, admitting their use as evidence in the case of Bosnian Serb leader Radovan Karadzic, now on trial for war crimes and ethnic cleansing.
The diaries record meetings with Croat leaders who wanted an alliance with Serbs against Muslims in Bosnia early in the war, revelations that may affect other ongoing trials. But Mladic's diaries make no mention of the infamous Srebrenica massacre – officially viewed as a genocide – whose 15th anniversary was July 11.
---