Heat wave bakes Russia: It's so hot that squirrels stay inside
A heat wave in Russia is behind wildfires and the worst drought in 130 years. In Moscow, people – and animals – are seeking ways to stay cool. Crops are withering. Temperatures this weekend could break a 30-year record.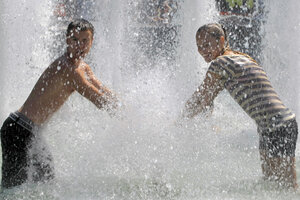 Mikhail Metzel/AP Photo
Moscow is hot. A severe heat wave has caused what some are reporting as the worst drought in 130 years. Over the past two weeks, temperatures have hovered in the mid-90s F. Moscow and much of Russia, which is usually spared this kind of heat, is baking – and forecasters are warning of more to come.
Galina Gaivoronskaya, a math teacher from Moscow, says she sleeps on a damp bed sheet to stay cool. Lidia Golubeva says she can't remember sweltering days on end like this in more than 30 years.
"Between a cold shower and the shade of an oak-tree I hope to survive. I remember such heat in 1972 but if it goes like this we'll set a new temperature record by the end of July," says Ms. Golubeva.
Experts concur.
Alexander Frolov, the head of the Federal Hydrometereology and Environmental Monitoring Service says that Moscow could break a record of 36.8 degrees C. (98.2 degrees F.) this weekend.
What this means for Moscow
Ice cream consumption, water consumption, and road rage is up; movement and productivity is down. Muscovites say that animals such as snakes and squirrels are only venturing out in the early morning hours and spend the rest of the day in hiding. Zookeepers are working overtime to keep their charges cool. Adding to the difficulties, more than 945 fires have broken out across Russia in the past week.
STORY: Odd things happen when a heat weave hits China
Many Muscovites are taking to the rivers and fountains. The Ministry of Emergency Situations reported that more than 1,720 people drowned in the past two months after seeking respite in the water. Still, the extraordinary number of drownings aren't far off of previous years – drinking alcohol while swimming and lack of swimming skills contribute to high rates every year.
---