Catalonia votes for less death in the afternoon with bullfighting ban
Catalonia, the Spanish region where independence sentiment runs strong, voted to ban bullfighting in a move that some said stressed its differences from the rest of Spain. But the old pastimes popularity is fading, and activists said it was simply the humane thing to do.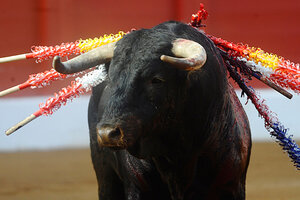 Nacho Cubero/Reuters
Catalan lawmakers cited European humane values in putting the first ban on bullfighting inside Spain today. But ending the ancient rite is widely seen as an opportunity in Catalonia to tout the region's old dream of separation from Spain.
The ban on the "sport" sparked by a citizen's petition of 180,000, passed 68 to 55 in the legislature of Catalonia in northeast Spain. It came days after the famed annual running of the bulls through the streets of Pamplona, always an ecstatic local festival though one viewed with increasing skepticism in the rest of Europe.
It also comes days after more than a million Catalonians gathered in Barcelona to protest a Madrid constitutional court ruling that Catalonia could not be defined as a nation. Animal rights groups, popular in the region, declared victory and bullfighting industry officials predicted dire effects on the economy. Spain's conservative Popular Party opposed the law and will challenge it in court.
---