David Cameron mounts charm offensive amid fallout with Pakistan
Pakistani President Zardari considered canceling his visit to Britain later this week after UK Prime Minister David Cameron suggested that Pakistan was 'promoting the export of terror.' Poor judgment or plain speaking?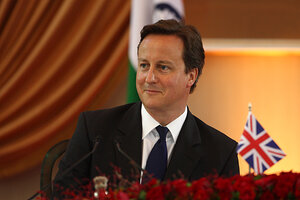 Saurabh Das//AP
Britain's top diplomat in Islamabad was summoned Monday for a dressing down by the foreign minister of Pakistan as the fallout continued from suggestions last week by Prime Minister David Cameron that Pakistan was engaged in the "export" of terrorism.
Back in the United Kingdom, the government's finest silverware was being polished ahead a visit later this week by Pakistani President Asif Ali Zardari, as Mr. Cameron prepared to mount a charm offensive to defuse the first major diplomatic row of his three-month-old premiership.
Cameron chose a visit last week to India, a foreign policy priority of the UK and a nuclear rival of Pakistan, to suggest that elements in his host's northern neighbor were "looking both ways" on Islamist violence and "promoting the export of terror" – remarks that were taken to refer to alleged support for the Taliban by Pakistan's secretive ISI intelligence service. His remarks came after the online whistleblower WikiLeaks released more than 91,000 secret documents that appeared to show the ISI's continued ties with the Taliban and other militant groups.
---