Is Europe building Big Brother?
A lawsuit in Ireland challenges the European Union's aim to collect and store personal data, even as the United Arab Emirates threatens to block BlackBerry until the company makes it easier to monitor information and the Obama administration seeks to circumvent judicial oversight to collect US data online.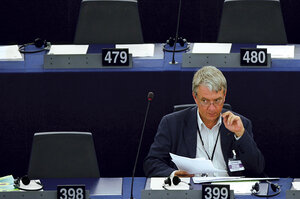 Vincent Kessler/Reuters/File
What the European Union is giving to Internet users and online privacy activists with one hand, it's taking away with the other.
The EU has tighter restrictions than the United States does on the collection, use, and sale of data by online companies, but also requires Internet service providers to store personal data in case the government ever wants to investigate an individual user. The European Parliament is currently considering passing a law called "Smile29" that would require the Google search engine – which processes billions of searches a month on the Continent – to retain data on users as well.
The EU effort is just the latest of government's around the globe seeking to glean more about their citizens from their online behavior. The United Arab Emirates has threatened to shut BlackBerry service unless the company provides information to help government security services circumvent its encryption. The US, too, is seeking to make snooping online easier. In late July, the Obama administration proposed new laws to allow the government to look at browser histories and obtain the e-mail addresses of citizens without judicial oversight.
To critics, the EU laws and the behavior of other governments amount to a surveillance land-grab. In the case of Europe, that's prompted a groundswell of opposition across Europe. Now a group in Ireland is challenging the new regime – seeking permission from the Irish courts to sue the European Court of Justice (ECJ) to strike down new Irish laws designed to bring the country into line with broader European standards.
---